Surface Power launch the world's first 20 year solar thermal "performance" warranty. This is the first performance warranty of any solar thermal system and at 20 years is an outstanding statement of engineering quality. (details below)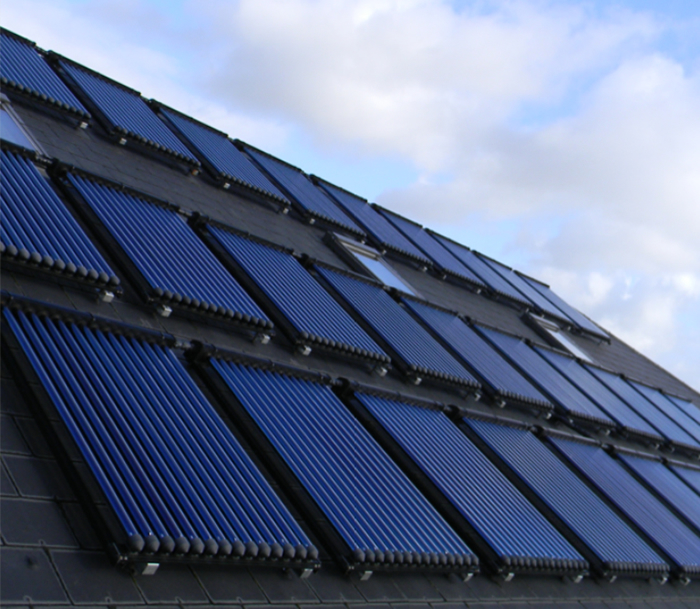 (NOTE; the word "performance" in this warranty, what's the point in having a 20 year warranty on a solar thermal collector if it does not also encompass performance similar to Solar PV)
Approved and Trained Installer – 20 years warranty
Other Installation – 5 year warranty
WHY?
 The externals
 1)      The SP501 solar thermal collector is made from aluminium. Aluminium is an element [Al] in the periodic table, therefore does not degrade. That's why the world's most expensive products such as world famous super cars are made from it. Aluminium is expensive so you know that you are getting quality products when you buy products manufactured with aluminium.
 2)      The outside coating of the aluminium is electrochemically coated. This gives it the very black look. This places a special film of aluminium oxide called (DZ90 hard coat – developed by Surface Power) on the outside which forms an integral part of the aluminium itself. DZ90 hard coat is the second hardest substance known to man, only a diamond surpasses it in hardness and it can increase the hardness of a standard aluminium surface by 3 times. This is why, all our collectors are MARINE GRADE by default.
 3)      DZ90 hard coat properly specified and maintained will virtually last indefinitely, well in excess of 50 years and then, after that, only it's appearance will fade, aluminium is still aluminium.
4) And if that was not enough, the long life pitched roof mounting kit is designed to exceed the requirements of the new UK MCS mounting standard (MCS 012) for pitched roofs to be implimented soon. This mounting kit is also aluminium, electrochemically coated with (DZ90 hard coat) as are the flat, ground and wall mounting kits.  
 The internals
 1)      Uniquely, the SP501 collector is NOT assembled. It is a factory manufactured unit. It ships in one piece and arrives in one piece. There are NO service parts or components. Nothing to replace, nothing to go wrong.
 2)      A critical component is the internal copper jacket, a one piece high pressure water jacket. Copper is also an element [Cu], a semi-precious metal and also very expensive. It is an excellent conductor of heat which is fundamental at removing the energy from a very high efficiency solar collector into your hot water cylinder or air conditioning system.
 3)      Copper has a life span typically of 50 years in a standard piping configuration when pinholes may appear due to wear from the water flow BUT the SP501 operates in a proprietary TDLF (thermodynamic laminar flow) solar technology system with a Reynolds Number less than 2000; so has multiples less friction and wear than a standard solar hot water circuit during its life. This will further extend the long design life of this one piece integral copper jacket far beyond its design life of 50 years.
 Uniqueness
 1)      What is remarkable about the SP501 solar collector is that it has no moving parts or consumables. It DOES NOT have any heat-pipes, seals, rubber gaskets, jubilee clips, click fit connections, attic insulation, snap connections, snap down covers, plastic fittings, rubber o-rings or other components which can fail, warp, crack or degrade sometimes without your knowledge.
 2)      TDLF – Thermo Dynamic Laminbar Flow (developed and patented by Surface Power) also DOES NOT suffer from overheating and has excellent performance even in bad weather, hence its catalogue of impressive leading government certifications around the world including the world's highest government certified TRNSYS modelling output per sqm at 783 kWhrs/m2/yr.
 3)      It is simply a "very very very" expensive piece of aluminium and copper but because it uses proprietary heating technology developed and patented by Surface Power, it produces the most power per sqm. It is simpler, it is more reliable, there is nothing to fail except copper and aluminium and hence has a significant life span over existing solar thermal collectors. Its design life was to be 50 years plus and it meets and exceeds that design requirement.
 4)     There are NO stainless steels/steels/tins/alloys/rubbers/push fittings, quick connects, etc to fail or rust.
 5)      There are no special proprietary tubes to make it expensive to service. SP501 tubes actually have to block direct sunlight with their coatings as the science that runs in the systems is so powerful at difused light conversion; but the tubes are easy to change and inexpensive to purchase (if ever required).
6) The SP501 and its system science were designed to provide investor and customer security for the duration of contracts of performance such as needed for the UK's Renewable Heat Incentive. The SP501 provides the risk free warranty for investors to invest in RHI tariffs. RHI Investments also come with fixed cost maintenance contracts for the 20 year term of the RHI. SEE MORE ON THIS NEW RHI TARIFF PROGRAM AND INVESTMENT MODELS HERE .
 Corporate Responsibility, Recycling & the Environment
 1)      As everyone is aware, we cannot throw away our products anymore. The SP501 has been designed to be the most environmentally responsible solar collector in the world.
 2)      All manufacturers will soon come under recycling directives where products must be taken back for recycling or must be of such commercial interest that they can be sold by the owner for recycling;
The SP501 design brief was to create a product designed to last "forever"; the influence of this design brief means you should not need to exchange your product for decades. Our simple service requirement will keep it operational and performing.
BUT if you ever need to end its life for what ever reason, you can be confident that we will take it back and as the product is made from Aluminium, Copper and Glass, these elements will find their way back into new products as they can be recycled completely. It is believed that 80% of the copper ever mined is still in use today.
 This means when you now choose the SP501 solar thermal collector, you choose;
The most powerful output per sqm,
The most environmentally responsible,
The only 20 year performance warranty,
Investor grade products & solutions,
The longest life solar thermal collector in the world.
 "Simply, in a class of its own"
This means we will provide a warranty that your solar thermal collector will produce 80% or greater of its initial solar performance in year 20.
To maintain the warranty, you simply need to service your system according to the requirements of your climate, typically 4 to 5 times over the first 20 years and have your system in our online network.