Link to report at bottom of page.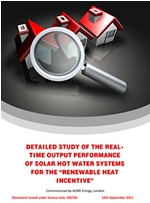 A new 15 month study of the performance output of Solar Hot Water commissioned by ACME Energy Investments in London has just been completed to help create finance and banking investment models for the UK's RHI (renewable heat incentive).
"There can be no second guessing performance outputs on Solar Thermal RHI, how can we invest in an industry that has never shown "real-time" performance data, what is our ROI, the system which spins the heat meter the fastest and longest gets the highest tariff, what equipment manufacturer do I invest in to make the highest return, does anyone know ?". ASSET MANAGER.
 (System 1 in the report) produced 3.12 times more "delivered" energy in the year than another top European solar  vacuum system. It's clear there will be big winners and losers in the manufacturing of solar thermal as investors race after the real "performance proven manufacturers"
This report has compared two different top of the range solar hot water systems of which System 1 in the report is a Surface Power SP501 PRO in a real customer. The results in the report are groundbreaking. The detailed study was done on 2 installed systems to determine how much "real energy" (kWhrs) they would produce, (to test manufacturers claims).
If you are a householder, installer, developer, engineer, architect or anyone involved in solar thermal heating & cooling, then you need to get this report by going to the webpage listed below. This report will be of value to anyone with an interest in the solar hot water, solar central heating and solar cooling arena including householders.
Some of the findings in the report are as follows:
System 1 clearly outperformed System 2 by an amazing 3.12 times more output per year.

If you add up the energy produced ONLY during the 6 months of the winter on System1, it is more than the whole years energy produced on System 2.

The profile of the Delta T on system 1 clearly produces more power hence the logical reason for more energy.

This changes all the legacy understandings of solar hot water from here forward. The rules have changed.
What people are saying about the report.
"Excellent work, I can now create an investment model for RHI solar with at least 1 manufacturer", Asset Manager.
"fantastic, I learnt so much about solar hot water, well written in simple easy to understand language, everyone should read this who is thinking of buying solar hot water", HOUSEOWNER.
"very interesting document, confirms a lot of what I had suspected about performance claims but never really knew enough to challenge it myself , " INSTALLER/CONTRACTOR.
"Thats the first time I have seen such detail explained in such simple language, now I feel I know what I am talking about when it comes to solar hot water" ARCHITECT.
"Loads of information on immersion usage, monthly statistics, graphs, explanations, a complete encylopedia on solar hot water even I can understand" HOMEOWNER
"Payback, Payback, Payback, brilliant, just what I needed to buy solar hot water, best £95 I ever spent" HOMEOWNER