This is a technical advisory regarding the installation of solar central heating systems and consideration for correct operation within a particular building design.
This advisory is to provide advanced technical information regarding the installation, operation and design of Surface Power solar central heating systems, (note: solar central heating systems also do hot water). This advisory only considers retrofitting houses. (new builds have different design requirements and more options)
MENU:
House legacy design issues
Do everything in one go
What you will save financially?
How it all works?
 HOUSE LEGACY DESIGN ISSUES.
Existing houses have a number of design issues, your building may have some of these issues and they will all cost you money in wasted annual heating energy bills.
Poor attic and cavity wall insulation.
Poor heating pipework insulation.
Boiler located outside in the yard.
Boiler located in an outside shed. (is your car warmer than you ?)
Old inefficient boiler
BUT what you may not realise is that your boiler can become even more inefficient after you upgrade your insulation AS it now will be switching ON and OFF more often. It is therefore very important that you complete a few tasks at once when considering a Solar Central Heating upgrade.
With English, Scottish, Welsh & Irish climates, we have very benign weather relatively speaking impacting the design. If you want more detail as to why we design systems this way, have a look at our blogs in relation to these subjects, they are discussed in detail. Just as you cannot install a solar heating system design from Arizona in the UK & Ireland, you also cannot install a solar central heating design from the UK & Ireland in Arizona (or anywhere else). These systems are all interlinked with the local climatic conditions, and cloud is the predominant condition in the UK & Ireland.
DO EVERYTHING IN ONE GO.
By doing all the small jobs with the big job in one go, you get the best return on your investment. So if you do the following and you complete it according to our guidance, you will save over 50% of your annual heating & hot water energy bills.  (note, this only apply's to our high temperature solar systems).
Do the following in one go:
Attic insulation up to 300mm
Cavity wall insulation, upgrade with bonded bead even if you have areaboard inside it
Your boiler loses heat energy in 3 ways:
By being outside and cooling down when it shuts off & heating up when it turns on
With losses through ground pipes which will be poor insulators
With poor conversion efficiencies of 50% for 10 year old boilers.
When you install Solar Hot Water &/OR Solar Central Heating, you should include a new smaller internal boiler in the house where possible which will remove loses 1 and 2, improves 3 and it also makes your solar system contribute a higher percentage of FREE heat energy.
 These items will help you achieve a 50% or greater reduction in your heating energy requirement AND make your home more comfortable.
Also, note if the winter is very cold & frosty like the last couple of winters, your solar input will sky rocket with a Surface Power solar system as it does not matter what the outside temperature is.
Doing everything in one go is the cheapest way to do all this work. To change the boiler, you have to DRAIN down your heating system. To install your solar cylinder, you have to DRAIN down your heating system. Doing it at the same time saves you ALOT OF money.
 WHAT WILL IT SAVE YOU FINANCIALLY?
Using current customers data which is now 5 years plus, you will save 50% or more, some of our customers as profiled are saving much more than this annually but we will stick to the 50% or more as a safe measure. This means that you can pay for these installations in approx 5 years with the savings and then the next 25 years gives you excellent annual addition cash to spend instead of wasting it on fuel bills.
This is what you waste your energy on, do you recognise anything ?  
If your boiler is in the shed/garage, you waste up to 15%, after you insulate the house better, you waste up to 20% of your oil/gas.
If your boiler pipework coming across the yard does not have the new type of super insulated pipework, it wastes up to 10% of your oil/gas.
If your cylinder is not a factory insulated unit, (ignore lagging jackets on standard copper cylinders), it loses heat overnight and will require your boiler on in the morning to top up the cylinder (see points 1 & 2).
If your attic is not insulated, your room heat rises into the attic, typical symptoms in cold weather are WARM HEAD and COLD FEET. Up to 30% of your energy lost.
Uninsulated cavity walls lose up to 25% of your heat.
Every winter and summer when you use your oil or gas you are wasting energy. Remember, even with a Surface Power solar hot water system in summer, your boiler should be off all the time even when the weather is not great. You do not need any sunshine for it to work.
HOW IT ALL WORKS.
This applies to ALL legacy houses that are of standard build and construction in the UK & Ireland. If the house was built before 2006, it will achieve much higher savings than stated typically.
By installing a Surface Power Solar Central Heating system you will be trying to adjust your buildings profile from the following typical profile:
Annual Hot Water Energy Usage – 40% of TOTAL; after upgrade down to 10% of TOTAL (includes reductions in direct and indirect boiler use for heating hot water),

30% FREE.

Annual Heating Usage to heat up your equipment – 30% of TOTAL; after upgrade down to 10% of TOTAL (i.e. boiler, pipes, walls, floor, etc),

20% FREE. 

Annual Heating Usage to maintain the heat after the system has heated up (2) – 30% of TOTAL; after upgrade down to 20% of TOTAL,

10% FREE.
This would give a saving of approx 60% off you ANNUAL HEATING BILL BUT if you moved your boiler inside, blocked unused chimneys, etc, this could be greater.
NOTE: We advise our installer network to give our customers a good understanding of this information so they can do a complete upgrade which meets "best practice". 
 BACK TO THE SOLAR CENTRAL HEATING & HOT WATER SYSTEM UPGRADE.
Note: A Surface Power Solar Central Heating system contributes to hot water and central heating energy.
MYTH 1: Does this mean I don't need a boiler, solar will provide all my heating? ANSWER: In the UK & Ireland, NO, (although that can happen if the day was really sunny and the night is cool enough to warrant some heating) but the solar system integrates with the oil/gas fired system. Its about your TOTAL energy at the end of the year. (for example. Your Total Energy = 100%, and that is broken down into 65% FREE Solar + 35% oil/gas = 100%.)
 MYTH 2: If I install an 800L buffer tank, I was told that it will run my heating system because it can store a large volume of solar water. ANSWER. NOT likely in the UK or Ireland, unless you are happy to heat your house with a large cylinder of cold water in winter. The solution for the UK & Ireland is high power solar systems into concentrated stores, don't forget a 300L cylinder heated to 80C will provide the exact same amount of heating roughly as an 800L at 40C BUT the 800L cylinder will ALSO not heat up your hot water high enough in spring, summer and autumn without a commercial size solar installation and/or oil and gas running. (This is a solution for another country most likely with a different weather pattern, big cylinders need blue sky sunny summers guaranteed )
INSTALLATION STARTS HERE:
STAGE 1: Remove the existing cylinder and replace with a SPSCHBuffer/Hot Water cylinder, size will vary on house but typically 300L up to 3000 sqft. There is a size that will fit into ALL houses even small ones with small hot presses. 
STAGE 2: Connect the boiler directly to the SPCHXXX Cylinder as the boiler will no longer feed the heating circuit directly. If your boiler is in the shed, this is an ideal time to get a low cost smaller internal boiler which will also be of higher efficiency. (If you have upgraded your insulation, your boiler can be a smaller kw model)
STAGE 3: This cylinder will have 2 stats controlled by your familiar HOT WATER ON and HEATING ON switches. This means that you have a low temperature hot water stat set at 40C at the top of the cylinder which calls the boiler ON whenever the top of the cylinder is below 40C. Your solar will produce this first of course but you may use alot of water at night and need a quick boost, boiler runtime is extremely short but in reality, you will have a full cylinder of hot water typically unless the weather is really bad (winter like). Also, as you do not have to meet Legionaires requirements (min of 60C hot water)  in this design, you save even more energy which would have been wasted. (your existing oil/gas boiler can't be set below 60C, have a look). With this design, your boiler has a 60C MIN TEMP stat but the cylinder switches off the boiler when the hot water stat reaches 40C (providing the hot water switch is turned on).
STAGE 4: The 2nd cylinder stat is the Heating ON stat placed at the middle of the cylinder and this will call the boiler ON when the water is at 50C or lower in the middle of the cylinder (providing the heating switch is turned on). Note: As you increase the insulation of your home, you can actually run your radiators (or underfloor) at lower temperatures to get the same result with even lower energy. 
TECHNICAL SPECIFICATION.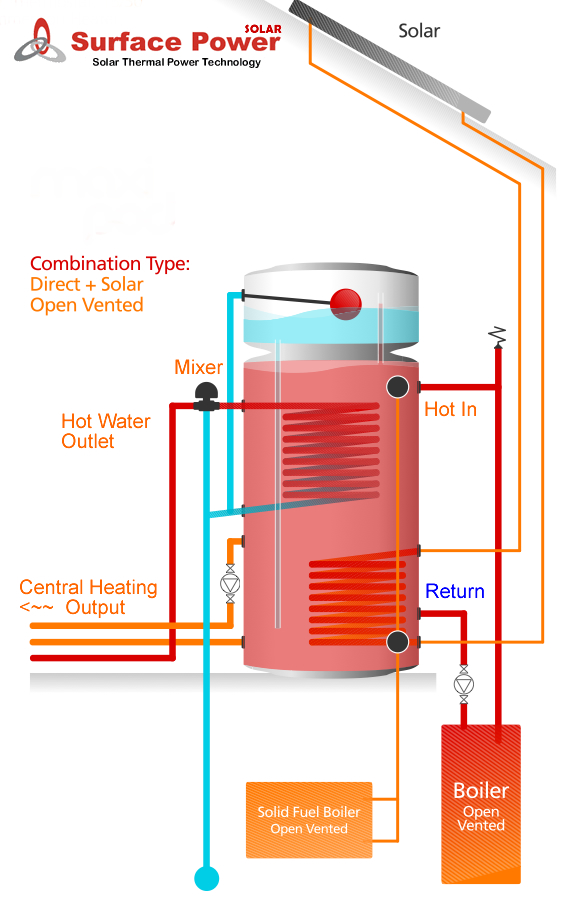 FAQ LIST…
Q: Is my cylinder full of hot water for my showers?; A: YES & NO, technically it is full of central heating water but there is a coil where your domestic hot water runs through, this takes heat from the cylinder water as it passes and delivers hot water as normal. It is simply the reverse of how you would normally heat a cylinder. It means that you no longer have to waste energy heating hot water to 60C for legionaires legislation when all you need is 40C for showers, etc.
Q: I have a regular terraced house, can this be installed?: A: Yes, it can be installed in any house, of any size, with any pre-existing system.
Q: Does this cylinder replace my existing hot water cylinder? A: Yes.
Q: Will there a significant additional works required versus installing a standard solar hot water system? A: NO, 95% of the work would need to be completed in a standard solar hot water system install.
Q: Will my house still work the same way? A: Yes, but with lower bills and ample amounts of FREE hot water.
Please email any other questions to support@surfacepower.com
Note: This is not a design for any other solar system, Surface Power solar systems are high temperature and high performance, this design specification has been perfected by us since 2005 and typically produces in excess of 50% savings in annual heating bills. (highest recorded in Ireland, 85% reduction, see case study in blog).