Did you know that "cloning" scams exist in the solar thermal industry.
 HOW DO YOU AVOID GETTING SCAMMED ?
Here's how the SCAM works: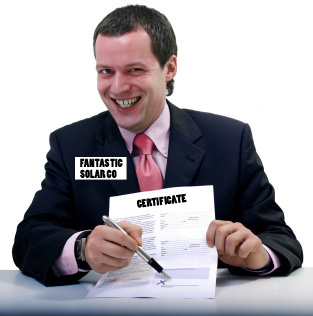 1) A Solar Hot Water company buys cheap untested poor quality solar hot water collectors such as a batch of 20 tube solar vacuum collectors or a batch of flat plates.
2) They go to the Solar Keymark website here and find a collector that matches as closely as possible and then print off the certificate. (It's so easy and they even give you the product dimensions and characteristics, etc)
3) These unscrupulous individuals then match the untested poor quality collectors with the genuine test result and HEY PRESTO, they now go to market and pass off the FAKE products as genuine to unsuspecting distributors or consumers.
BUT IT CAN BE WORSE: These unscrupulous individuals usually act as distributors passing them on to other distributors under export who DON'T realise they are being conned. Also, in a lot of cases, you can even get the FAKE products registered for grant schemes by submitting the genuine certificate. (but the fake product gets installed)
So HOW DO YOU PROTECT yourself ?
Have you installed solar collectors already, did you check to see if they were genuine ?
Have you purchased collectors already, did you check to see if they are genuine ?
Are you planning to install, WILL YOU CHECK TO SEE IF THE PRODUCTS ARE GENUINE, your installer may not have checked or even know ?
HOW DO YOU CHECK..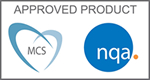 SIMPLE: Make sure you buy an MCS Solar Accredited Product (ASK FOR THE ID NUMBER) MCS Scheme product details are kept confidential from forgers. You can also contact the manufacturer to confirm if your source is a genuine source of the product.
The MCS Solar Accreditation Scheme is a scheme that stretches from the manufacturer all the way to the customer. Solar Keymark DOES NOT so we rate the MCS Scheme as a better quality assurance scheme than Solar Keymark. (it's easy knowing that the MCS Scheme is tougher to achieve, there are only a hand full of manufacturers who have achieved it so far)
See the comparisons between the MCS Solar Accreditation scheme and the Solar Keymark Accreditation scheme. DOWNLOAD HERE
 The MCS Scheme is audited every YEAR and Keymark is audited every 5 YEARS so the MCS scheme gives you up to date protection and assurance.
BE SAFE, BE SURE. BUY GENUINE PRODUCT ONLY. ITS YOUR MONEY !!