At 9:19am in the morning, a basic Surface Power solar hot water system (2.85sqm), (approx the same aperture size as 1 standard flat plate collector) is ALREADY heating water at 80C constant flow, that's 20C degrees HIGHER than the homes oil boiler (standard boiler output 60C) AND all for FREE….
IMAGINE having a solar system that THINKS IT'S a BOILER and it was installed in your house today…now imagine that this system was installed to replace a 2 year old 6sqm Flat Plate Solar Hot Water System.
THIS new installation (4 months old) is saving significant money on Oil every year and over the life of the system will save tens of thousands of pounds on fuel savings.
The system was installed by Subsidised Solar Solutions, 01423 521454, (www.subsidisedsolar.com) headquartered in Yorkshire,
MD, Mark Roberts stated:
"The performance of this replacement system is quite staggering, after installing solar hot water for years, we have never seen any other system come even close to this type of performance, this is real and measurable energy performance and our solar customers are recommending us all over the place. This customer asked us to remove a 2 year old 6sqm flat plate solar hot water system which the customer felt never provided any real benefit (not installed by us). We installed a much smaller Surface Power system of 2.85 sqm and wow, what a difference. Surface Power guaranteed us online evidence of the performance 24/7 and it does exactly what it says on the tin with bells attached. The customer is simply stunned."
"It really is time for solar hot water manufacturers to start guaranteeing the output of their systems. We as the installer are always blamed when they don't live up to the hype. Thankfully, we don't have to worry about that anymore."
You can watch this system (and others) LIVE 24/7 by going to www.surfacepower.com/live.html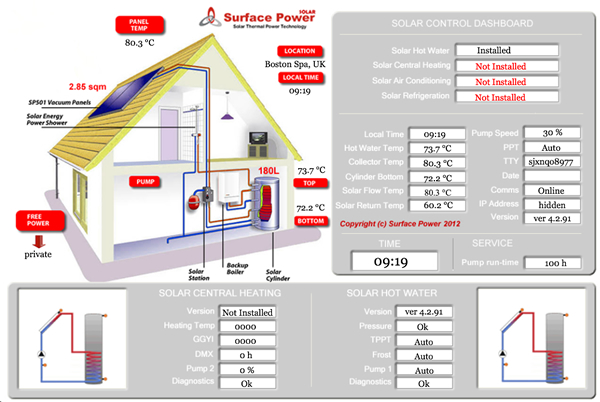 EVEN 2 HOURS LATER, STILL ABOVE 80C FLOW RATE. (ONLY 2.85 SQM OF Collector)