Latest revision date of this post Sunday 26 June, 2011.

NEW

 

Published Saturday 25 June, 2011. 
Due to popular demand, we are including this FAQ based outline of what you need to know about solar central heating.
WE HAVE INCLUDED EVERY POSSIBLE QUESTION THAT WE HAVE BEEN ASKED, PLEASE SEND ANY QUESTIONS TO support@surfacepower.com and we'll add them.
Q: Can every house be converted to solar central heating ?
A: Yes and NO. It needs a survey. An example, if you have a boiler out in a shed and your hot water cylinder in your hot press, then the boiler will need to come inside OR a lot closer to the house, (or we won't approve the design). Solar central heating & hot water combined is not just about using daylight instead of oil/gas, it also means the system is redesigned to remove lots of heat loss and inefficiencies. MONEY IN YOUR WALLET..
Q: Is it expensive ?
A: It is more expensive that a standard solar hot water installation AS you get both hot water & central heating input BUT it is mainly because of more panel area, i.e. more power generation. Tpyical cost is €12,000 to €15,000 on systems up to 3,500 sqft already completed BUT payback is much quicker than solar hot water !!!, sometimes less than 5 years, see the acceleration factor below on extra heat performance. Systems for houses up to 7,500 sqft with up to a couple of KILOMETRES of underfloor piping or radiators cost up to 20,000 euros typically.
To get a ballpark price; multiply your annual heating bills by 3, so if your oil bill is 4,000, then 12,000 is  a guide price. If your oil/gas bill is 8,000 a year, then your guide price on a full system installed is 24,000.  
OUR QUALITY LEVEL IS SPACE STATION GRADE ON ALL THE SYSTEMS, EARTH QUALITY IS NOT HIGH ENOUGH FOR US. EVERYTHING IS MARINE GRADE MATERIALS INCLUDING THE MOUNTING SYSTEM WHICH MEETS THE NEW MCS MOUNTING REQUIREMENTS WHICH BECOME MANDATORY LATER THIS YEAR.
If you save 2,000-2,500 euros/pounds a year on a standard system costing approx 12,000, then with annual fuel inflation if you get full payback by year 5, you will then from year 6 to year 10, get accumulated EXTRA savings of approx 15,000 euros/pounds. And for the next 10 years after that, 10-20 YEARS, MUCH MORE MONEY SAVED and so on after 20 years.
Q: I can't fit an 800L buffer tank in my house, its only a semi-D.
 A: Good, you don't need it in the UK or Ireland, the climate is too temperate. Having an 800L buffer means that you would have to turn on your heating in summer in cloudy and dull wet summer weather when the air temperature is not cold. (That makes NO SENSE !!). With our designs, bad weather is a thing of the past. Your typical storage will be approx 300L up to 3,500 sqft. Our MPPTt technology will do the rest.
Large cylinders are usually used with flat plates, this is due to their lower temperature capabilities, so if you increase the cylinder size , you get more lower temperature water. (Note: some flat plates ARE more powerful than vacuum collectors, just because its a vacuum collector doesn't make it more powerful, ASK FOR GOVERNMENT CERTIFIED PERFORMANCE DATA using TRNSYS Modelling). BUT you should NOT compare solar collectors on how they look, you SHOULD ONLY compare them on HOW they PERFORM USING GOVERNMENT TRNSYS CERTIFICATIONS.
In reality, you shouldn't care if the product is a bathtube that goes on your roof as long as its the most powerful product per sqm. BEST VALUE FOR YOUR MONEY, SEE OUR SALES APPROACH TIPS BELOW.
(If you use flat plate solar collectors or own a house in central europe where it gets to -15C in the winter and +30C in the summer, then by all means buy an 800L cylinder, you'll need it as you'll probably have a solid fuel stove to heat it up.)
Have you priced an 800L cylinder lately (AND) also considered how much it will cost in the future when it needs to be replaced, the space it requires, and it must go on a ground floor.
Q: Which type of solar collector, vacuum or flat plate ?
A: OK, this is real MYTH territory. There are vacuum collectors more powerful than flat plate and there are flate plate collectors more powerful than vacuum. There are ways to guess which end you are at without superior technical knowledge.
Look at the quality of the product, quality says a lot, inspect it, go and see the product on the ground in an unopened box including all the pipework, controls which would be used.
Did you know 90% of solar collectors are filled with attic insulation ? (OURS are filled with Space Age, High U Value long life UT, just though we'd mention it), attic insulation is for attics !!
The best flat plates ARE MORE expensive than the BEST vacuum.
In simple terms, you should ignore anybody preeching that a particular type of solar collector is better than another especially if they are using a report from 2005 (which is about 1625 in solar development years) to back up their argument.
There is only 1 WAY to determine the best solar system on performance (if performance is what you want), and it's with a GOVERNMENT CERTIFIED TRNSYS CALCULATION. This allows comparisons.
If your sales person uses language like, "one of the best", "one of the most efficient", oh and they'll throw in that the best is so expensive, you can just add more of our collectors to make it up and it will be cheaper, blah, blah, blah. ASK THEM TO PROVE IT !
In our view, IF WALKS LIKE A DUCK AND TALKS LIKE A DUCK, You can figure out the rest.
P.S. As we've already had our network changing out worn out solar collectors less than 7 years old and also changing out solar collectors which simply DON"T WORK , we have a lot of experience at this.
You should also go with a reputable performance BRAND. The world is covered with own brand and self branded solar collectors. Our view is that if these solar collectors were majestic enough to start with, the manufacturer would want their manufacturers BRAND on their systems as standard.
WE DON'T MAKE SOLAR SYSTEMS OR COLLECTORS FOR ANYONE ELSE IN THE SOLAR SYSTEM !! 
Q: Is there major disruption to this type of installation versus solar hot water ?
A: No more than adding extra panels and  a little extra work on the inside.
Q: Can I specify which type of solar central heating system I want ?
A: NO, our installers must get design approval from us for your exact building, you can add extra panels if you like but that's all. Otherwise our installers will walk away from the project. IT MUST WORK, THAT'S OUR PHILOSOPY. If you want to design it, please contact somebody else for solar equipment.
Q: Can I do a performance comparison with your panels versus any competitors ?
A: YES, we encourage this, we have the most powerful solar thermal panel technology in the world BAR NONE !!, send us the comparisons you want done and we'll do them, send them back to you and also send you the certifications for ALL so you can repeat them and check to see if they match the results we gave you.
To give you current certification examples using TRNSYS by the US Government in 2011 as an example.
WE ARE 95% more powerful than the best German CPC vacuum collector, YOU NEED TWICE AS MUCH OF THEIR COLLECTORS.
WE ARE 330% more powerful than the best German flat plate collector, YOU NEED OVER 4.3 TIMES AS MUCH OF THEIR SOLAR COLLECTORS.

<<< (we believe this is world's most powerful flat plate collector)

WE ARE 2100% more powerful than one of the top 3 US solar flat plates, YOU NEED 22 TIMES AS MUCH OF THEIR SOLAR COLLECTORS.
Maybe you should read the last one again !!, 1 sqm of a Surface Power SP501 solar collector is = (equal) to the output of 22 (YES 22 times bigger) sqm of one of the TOP US solar flat plate collectors according to the US Government certification process. (testing conducted in Palo Alto, California)
READ OUR SEPERATE BLOG ON THIS TOPIC, WE ARE NOW PROVIDING A SOLAR PRODUCT COMPARISON SERVICE FOR YOUR CONVIENIENCE>
Q: Do I need to manage the system differently?
A: No, but you need broadband as its mandatory (On all solar central heating systems) that you are connected to our MPPTt server in Florida to maximise your performance. Every house is different so we will optimise the system (change the settings remotely hundreds of times a second) over the first year and we will inform you and your installer if there is anything wrong at any stage !. Whilst, we have the highest certified performance on our solar panels, our MPPTt technology amplfies that further and our online services means your system is always optimised.
(Note: In reality, our systems are always checking your system and optimising (changing settings)  in year 2, 3, 4 , etc, etc as long as your broadband connection is online) YOU ALSO BE ABLE TO SEE YOUR SYSTEM ANYWHERE IN THE WORLD.
ITS A FREE SERVICE TO DOMESTIC USERS. IF YOUR SYSTEM IS NOT PERFORMING, WE'LL TELL YOU WHY!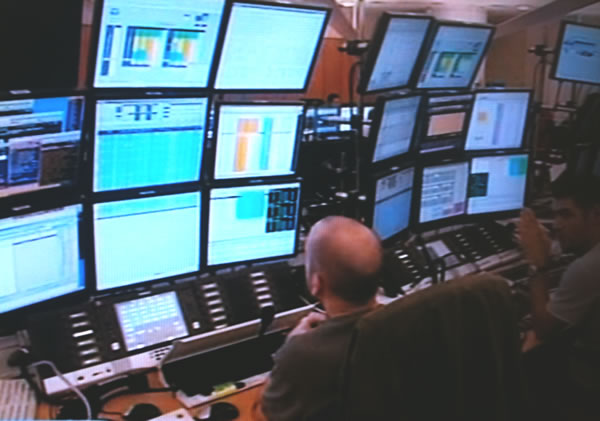 Q: How long have you been installing solar central heating & hot water systems?
A: We (personally don't install) but our network under our supervision in EVERY CASE have been installing them since 2005. EVERY ONE OF THEM IS  a success for a FEW VERY GOOD REASONS,
ONLY, master installers can fit them, (100 installations of solar thermal systems or higher)
WE MUST be part of AND approve the design of the system with the installer (customers don't meet us directly BUT can contact us 24/7 at support@surfacepower.com at any time) 
THE SYSTEM must be online and our MPPTt technology will optimise it and watch over it.
IF AN Installer attempts to sell one of our systems as an approved central heating system, you can simply ask us if it's an approved project; regardless of which country.
AND OF COURSE, OUR SYSTEMS have the highest output per sqm so they perform better.
Q: Why not flat plates, I was given a German University report that they were more efficient?
A: OK, lets try and answer this comprehensively.
Governments across the globe do their own testing and certification of all systems. They do this as they need to be sure that like is compared with like; and as they are providing grants OR tax rebates, they don't want to waste their money.
Excluding europe, you can compare solar systems easily, in the USA, you compare the SRCC data, simple, In Australia, New Zealand, you use the star list, 6 stars best, 2 stars worst and all in a queue, (i.e. first is best), then you can use Energy Star listings which guarantee 70% hot water contributions. OR Canada, use the CSA data and so on and so on.
In Europe, there is a different model, it's called the "one arm as long as the other approach", it'll do 70% of this, milk the cows, wash the clothes and mow the lawn if you go for 2 panels instead of 1″. SOUND FAMILIAR. Any reason why you think Europe is bottom of the class when it comes to providing comparitive analysis of solar hot water systems ?
Here's  a clue, you figure it out, > flat, ger, 170,000 jobs…..
Sorry to be harsh, BUT Europe needs real TRNSYS comparitive modelling as soon as possible.
The ONLY thing that matters is what the TRNSYS modelling calculation for a solar thermal system says it will do. This modelling is used EVERYWHERE in the world by GOVERNMENTS, ENERGY STAR, etc, etc EXCEPT "guess where" , yes, EUROPE. If you look at the different examples of solar systems for sale in Europe, many of them use different names (brand) outside EUROPE so Joe Public can't do comparisons easily.
YOU ALSO can't do comparisons using SAP, BER, SBEM or any other building energy rating software. They simply calculate an allowance for carbon and energy the Government will allow your building design and there are many opinions on how good they perform that function.
TRNSYS is the world benchmark for solar simulation and modelling.
ASK US, we'll do it for you and send you the data, but you need to name the products you want us to compare, don't send us anymore than your top 3 at anytime. 
Q: How do I go forward ?
A: Contact us or go to our where to buy page and contact a master installer (listed). A survey is needed, you will save anything from 50% TO 70% of your energy costs typically but we will only except our design as approved and you must have broadband.
Q: What if I have questions?
A: Send an email to support@surfacepower.com (it's open 24/7), give them as much detail as possible about your project, house size, number of rads, cylinder size, type, location, roof size, direction, etc, etc.
Q: What if I already have a solar system?
A: We currently upgrade existing systems and exchange lower power collectors as a growing part of our business. This is not unexpected. When you add significant insulation upgrades to your walls and attic, you don't need your boiler and our systems can achieve ALL hot water even in bad weather.
THIS Picture below was taken in bad weather with collector water temperature at 76C, (8C higher than the max temp output of the gas boiler). (house is approx 3,500 sqft, 2 x 30kw gas boilers, large underfloor system with collapsed heating bills saving several thousand euros per year)
This system below has 12 Surface Power solar collectors: equivilant to 20 sqm of the leading German CPC vacuum collector (which wouldn't fit on the roof), equivilant to 48 sqm of a leading German flat plate (which wouldn't fit on the roof) and equivilant to 264 sqm of a leading US solar flat plate collector (which wouldn't fit in the garden!!).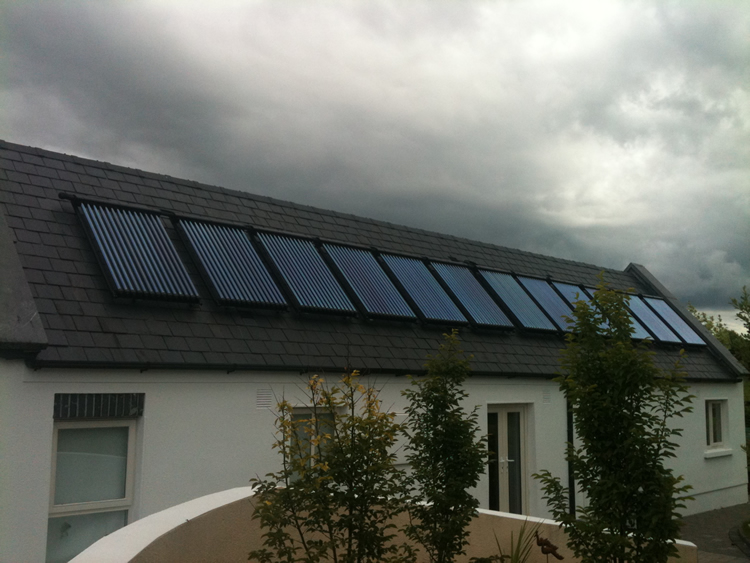 Q: I heard that as you make solar panel arrays bigger (as in solar central heating), they can produce lower power per sqm, but your information says the opposite, the more panels the higher the power per sqm?, explain.
A: OK, hands up, you found out one of our many secrets, our new therodynamic laminar solar technology coupled with MPPTt allows us to play around with an element of the thermodynamic science of solar hot water which causes stagnation problems in other solar systems. Our thermal acceleration factor increases the more panels you put on, this is key to our solar central heating output (along with MPPTt).
Acceleration factor [A (aperture) * L(acceleration) = F (Solar Thermal Acceleration Factor)]
2 Surface Power Panels = F – Factor of 1
3 Surface Power Panels = F – Factor of 0.66
4 Surface Power Panels = F – Factor of 0.5
5 Surface Power Panels = F – Factor of 0.4
6 Surface Power Panels = F – Factor of 0.33
7 Surface Power Panels = F – Factor of 0.28
8 Surface Power Panels = F – Factor of 0.25
9 Surface Power Panels = F – Factor of 0.22
10 Surface Power Panels = F – Factor of 0.2
The LOWER this number above the higher the temperature acceleration of the system at heating.
 To work out the performance factor, divide the number of panels by the acceleration factor.
PF of 2 panel system = 2
PF of 3 panel system = 4.54
PF of 4 panel system = 8
PF of 5 panel system = 12.5
PF of 6 panel system = 18.1
PF of 7 panel system = 25
PF of 8 panel system = 32
PF of 9 panel system = 40
PF of 10 panel system = 50
The HIGHER this number, the higher the performance so you can see for example by adding 1 more panel to a 9 panel system, you get 20% more performance.
By adding 1 more panel to a 2 panel system, you get over 100% more performance and so on for MPPTt.
What this shows is that a 7 panel system has 4 times the temperature acceleration using MPPTt than a 2 panel system PER PANEL. That means if you had a 2 panel Surface Power system (1.9 sqm) on a 150L cylinder (50C) and a 7 panel Surface Power solar system (6.3 sqm)  next door to each other, they would achieve similar water temperatures if you fitted a 1200L cylinder to the 7 panel system. i.e  as you increase panels, you get higher performance with MPPTt.
This is all part of our carbon neutral building development program where governments require carbon neutral buildings from 2016 onwards as the default standard.
Q: Is there a minimum amount of panels that can be used for solar central heating ?
Yes, for solar central heating combined with solar hot water, we want an acceleration factor of 0.2 or lower (Lambourgini, Ferrarri territory). Thats 10 panels minimum.
Q: If I decide to do a proper solar central heating and hot water system, can I get it done straight away?
A: Survey yes, but our master installers are never FREE. Usually, it will depend on the schedules on existing system installations. Typically, its at least 4-6 weeks from the survey to when the installation is carried out. These systems can be installed all year round.
Q: I'm a solar installer, can I install the system ?
A: Yes, after training and only when we approve the design. BUT we won't recommend you directly to our direct customer approaches looking for an installer recommendation for solar central heating until you meet our MASTER installer requirements which is 100 solar systems installed or higher (solar hot water OR solar central heating).
Q: I have been approached by Sales people whom I'm not happy enough to go with, how do I know who to go with, I want to buy something ?
A: We don't have an opinion on how sales people present themselves, WE DON"T SELL OUR SYSTEMS DIRECTLY BUT WE DO KEEP CLOSE TO THE USERS SO WE GET FEEDBACK AS ITS OUR NAME ON THE BOX, BUT like any business, a sales person has a job to do. On that basis and in this industry, you could follow the basis rules below as a guide:
He/She will outline how powerful (or efficient) their solar systems are; ASK, ARE THEY THE MOST POWERFUL ? AND CAN I SEE PROOF FROM THE MANUFACTURER DIRECTLY or simply email the manufacturer. (This little tip highlights the fact that government forces will come down on the manufacturer if they make comments which are not true, unlike the local installer/sales person)
Ask to talk to a happy customer, OR/AND Ask the manufacturer to to talk to a happy customer through their installer network
Ask to see a Bill of Materials, this is the equipment that will be installed with your system. This will determine if you are getting quoted LADA or MERCEDES. (Low Price is a bad way to choose a solar hot water system supplier) 
Try and get the sales person to adjust the specification, i.e. there is no situation (that we can think of), where one size fits your home. There are always options and if your sales person/surveyor is clueless, he/she will stick to the one size fits all approach AND avoid moving from it. Also, if you are given references which are exactly the same system spec you have been quoted, ask how that was arrived at. It may be fine OR it may not be tailored to your needs.
Q: I still feel you need to SPELL out for me what I should be asking for or doing to get the best outcome ?
A: OK, In our opinion, the most important thing to do is in the following list in the following order:
Performance
Product Quality
Installer Quality
Value
Price
Performance: ASK FOR PROOF, if performance and the highest performance is what you want, then say so. DEMAND that the sales rep/surveyor proves to you he has the highest technical performance. DON'T be fooled by statements such as Vacuum are so expensive or UGLY, we don't even quote them, we never get any business, these are MYTHs. This step is about TECHNICAL performance only, get the result you want. If they can't prove that they have the highest technical performance offering, then you could be buying the worst or somewhere in between.
Summary: Don't accept excuses as to why they are selling a product which DOES NOT have the best performance, remember it's NOT THEIR house it's going on.
Product Quality: In this sector, quality goes from one extreme to another, get in your car, and go down to see the equipment the supplier is using in the boxes. Have a look at the collector and it's mounting system, have a look at the pipework and the control and pumping system. Is it all high grade, are you satisfied that this is serious product quality. To help you, here's quick guide, the BEST quality should be in your opinion something you would expect to see purchased by a large Corporation. BUT, you are not an expert BUT we guarantee you that when you see poor quality solar systems in their boxes, you will know it straight away and one way is to look at the mounting system quality. Only quality solar systems typically come with rigid and high quality mounting kits. Poor quality systems typically use galvoband and lay the collector on your roof (awful stuff), and this is shortly to be outlawed in the UK under a new MCS standard. For Ireland, we guess this will occur sometime around 2089. 
Top Tip: Find out if the system specifiction is the manufacturer's or if it was put together by the sales rep/installer, if it is a manufacturers specification, it should be on their website and they should be able to discuss it with you. Contact our support desk 24/7 at support@surfacepower.com
Summary: Use your common sense, our network is and will be delighted to let you see in advance any equipment which would be used on your installation. Public visitor centres are available in the UK and Ireland also.
Installer Quality: This goes without saying, ask for references and avoid, sister, brother, mother reference sites (only joking), but this is common sense, successful installers/installation company's WHO are connnected to the MANUFACTURER in a strong relationship are the best installer networks to use. NOTE: If the manufacturer is an own brand (eek) or the manufacturer highlights a list of approved installers (500 or so), then this IS NOT what we mean. We mean connected at the HIP, their customer is our customer philosophy, etc.
Summary: Use common sense. A manufacturers list of "approved" installers which you can pick from IS NOT the same as a manufacturer's naming and connecting you to a handful of master installers (hand holding).
Value: This is the most important aspect of your system. Are you getting dual insulated stainless steel pipework with full UV covering OR a load of standard copper with Armaflex insulation ? Are you getting full online SMART GRID  connectivity with one years FREE monitoring service and heat ouput optimisation ?, Is your complete external equipment schedule MARINE grade by default OR is that extra or unavailable ? (that would translate into "not required in sales language)". Ireland and the UK are 2 islands !! with lots of coastal counties and other smaller islands. Marine GRADE solar systems should be default.
Summary: You want to try and get a price on what you are being offered so value is inportant, it's no different to cars. The value changes with price. You need to know whats on offer, GO AND LOOK !!
Price: Now we are in a position to look at price, the quality and value offering will tell you how long the system will last, will you need maintenance often or rarely. Never has it been so true in this industry the sayings, penny wise, pound foolish OR buy cheap, buy often.
Summary: You get what you pay for BUT ONE WARNING !!, just because it's expensive or more expensive does not mean it's better by default, you need to get into you car (or train or bicycle) and go and look. 
Q: List the equipment specification which you believe is HIGH QUALITY ?
A: OK, this applies to our equipment, we insist on BEST GLOBAL PRACTICE on equipment specification.
Collectors: They should be marine grade, black, aluminium with no metal parts that can deteriorate. (Our collectors are small and high powered so we can access the largest amount of roofs, many of  our networks installions occur on roofs where other solar collectors just don't fit).
Mounting Kit: Firstly, there should be one, it should NOT BE AN OPTION, IT SHOULD BE FREE WITH THE COLLECTOR as is the situation with our systems. It should be aluminium, black and long life with the mounting method being "keyhole" into the roof beam. (NOTE: building standards are catching up with in-roof (flat plate) or on-roof (galvo-band, laying the panel onto the roof tiles

ekk   ) –  and soon to have a requirement to meet roofing standards of 50 years  if this is the approach. This will also impact solar installers as it will mean Agrement Board audits, etc.
OUR systems hover over the roof and mounting is through unattached (to the roof) keyhole stainless steel bolts (WHICH ALSO COME FREE WITH THE COLLECTOR) in the box so this 50 year issue does/will not apply.
Pipework: Pipework should be stainless steel fully insulated with full UV protection. This pipework runs from the collectors to your cylinder. There is no risk of leaks as the pipewrok runs through your roof, OVER YOUR BEDROOMS, into cavitys, etc. This pipework also protects against burns as our systems can operate up to 130C, no water must ever be able to leak or escape and this approach is best practice.
Pump stations: We currently use the world leader (German) in pump stations with the most efficient solar pumps.  
Control systems: We currently use a base RESOL controller to activate the pump ON/OFF and then our MPPTt systems take over online interacting with the systems hundreds of times a second and raising the temperature up to between +10C and +25C for a huge increase in performance ABOVE the superior HIGHEST collector certification. This is all OUR patented technology and we make our engineers drink German beer so they are the best

     !!.
Cylinders: This is a topic and a half. We have banned many cylinders from our systems as they have been badly designed for solar hot water use. To this day, our design team HAS NEVER been contacted by a SINGLE manufacturer of solar cylinders to discuss how to create an optimised cylinder. It's no wonder they get it wrong so much. (NOTE: we do have approved designs based on interaction with NEWARK and COPPER INDUSTRIES)
What they get wrong the most:
Sensor pockets in the wrong place, (leading products on the market)
Solid fuel coil above the solar coil when it should be below the solar coil.
Not using 50mm insulation, (PLEASE MAKE SURE YOUR SOLAR CYLINDER HAS THIS !!), get a spec sheet, don't accept, Oh, it has Yes, definitely, Ya, Sure, wouldn't use anything else.
Wrong size coils.
Wrong placement of the cold feed.
Note: A solar cylinder IS NOT a regular cylinder with a solar coil !!. So we will keep barring cylinders from our systems. Ask us if you want to check a cylinder is OK to use. IF IT DOES NOT HAVE 50mm of insulation, DON'T CONTACT US. It will be rejected for use.
Q: You mention very strongly that you must approve the design, why do you care ?
A: Very simply, IT'S OUR NAME ON THE BOX and getting solar central heating right is more wizardry than science. There is lots of scope for it to be done incorrectly so this is why we work closely with our master installers. HISTORY has shown a litany of bad installs and designs historically in the industry and the solar graveyard is full of these.
We aim to design to achieve at least a 50% reduction in total heating energy bills but you must follow our design instructions to the letter. We don't guarantee you will achieve 50% savings as we won't ever say we can do impossible feats; but we are doing OK so far with one property at over 85% reduction and in it's 5th year. If the design tells us that achieving 50% is too risky, we will not approve the design.
And before you ask and scream at us that even at 30% or 40%, it still makes sense, then YES, it may still make sense but at this moment we are only approving designs which have the highest chance of a very successful outcome that at least in our view will meet a 5 year payback or better.
Q: Can I use Polysun on your systems ?
A: NO, NO and NO. Polysun and any other simulation software is untested with our solar thermodynamic science and is unfamiliar with MPPTt technology. You will oversize a Surface Power solar system using Polysun or similar software. We currently provide all design specifications FREE internally.   
Final word: Old chinese proverb;
"He who asks a question is a fool for five minutes; he who does not ask a question remains a fool forever."
-
We will update this whenever someone asks a question which we feel will enhance the detail and post the lastest revision date at the top..
-
—————————————-