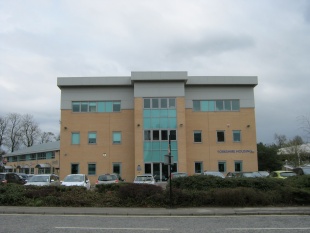 Surface Power breaks RHI commercial tariff record in UK with meter reading at 566 kWhrs/m2/yr. (OFGEM meter as per RHI)
Surface Power DTES Thermal technology, is really changing the face of how building energy can be produced. The output of Surface Power's DTES is so far ahead of old style solar hot water panels, that it is capable of producing between 300% and 2000% more metered (delivered) energy per sqm. This is according to the official UK study's that the Energy Savings Trust & others have been documenting about the poor performance of old style solar hot water vacuum and flat plates systems in the same location.
In fact, in a recent study by Sheffield University, this Surface Power commercial RHI system is producing 2300% more RHI metered units versus a building studied for a year in a comprehensive performance study completed end 2012. All these systems are located in Northern England.
To put that into context how important that Surface Power advantage is; it would make payback 23 times quicker.
This is why Surface Power's DTES thermal can not only replace old style solar hot water but also heat pumps. In fact, instead of installing a heat pump and solar hot water, a DTES system will replace both in just one installation and ONLY gets it's energy from "daylight". DTES is the only technology designed for direct central heating integration and it is now well proven how powerful and successful it is.
Word of Warning: In 2008, a UK solar installer was prosecuted by Trading Standards for conning people into thinking that you could use old style standard solar hot water panels for central heating use, they were subsequently closed down, featured in newspapers and on BBC Rogue Traders and fined heavily in court for deception. Installers can sometimes get carried away with performance claims BUT other times they can be acting fraudulent on purpose to con you out of your money; ALWAYS, ALWAYS, MAKE SURE the stated manufacturer of any product or system is STANDING OVER "all" information an installer tells you. This is the quickest way to find out if you are being conned.
This performance result above from Northern England for a DTES thermal system for a commercial RHI project, to put some numbers on it; a 250 sqm metre installation at 566 kWhrs/m2 receives a payment this year of £13,159 rising each year for the next 20 years plus added inflation increases achieving an outstanding payback of 6-7 years.
This commercial system performance result is a TSE (Total System Efficiency) yield of 54%, a long way ahead of heat pumps and old style solar hot water panels. Surface Power domestic systems typically yield more than 60% TSE with 68% being measured in a 18 month study.
Have a look at this customer system in Northern England this very morning (this house has NO boiler): the DTES thermal array is already at boiler temperatures, and all this is just using DAYLIGHT, that's what DTES thermal can do which regular solar hot water can't.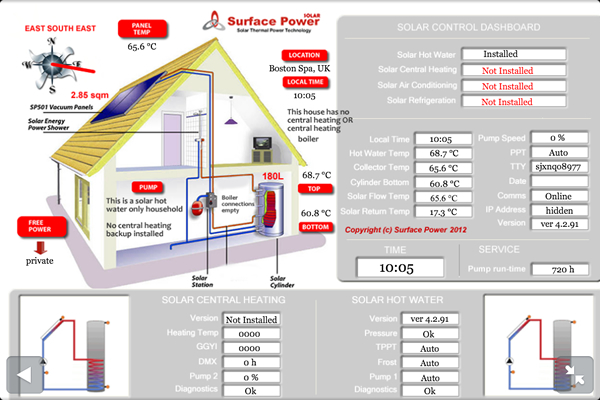 Explanation of TSE: This measures the available energy from the sky divided into the metered energy received into the storage. In the example above, 1044 kWhrs/m2 of energy is available from "GOD", and metered output was 566 kWhrs/m2, that is 566/1044 = 54% TSE. (this method of calculation is technology agnostic), it is all about PROOF, NOT PROMISES.
Read more about Surface Power DTES here