We are often asked to explain why our solar hot water systems can produce so much more energy than standard solar hot water systems.
Here we explain how our technology works, what design issue's help your wallet most and why it is important:
BRIEF HISTORY FIRST: Solar Hot Water Collector's were originally designed in 1891 by the California Lightbox Company, (the flat plates of today). Solar Collectors around the world are all made in sunny climates and exported to other regions. The problem arises when these other regions do not have the same sunny weather and the products do not perform very well. Solar Collectors are measured primarily for their "light conversion efficiency". When you live in a country where it is typically cloudy, then all you get is diffused light, not sunlight so other factors come into play.
A Solar Hot Water collector that is optimised for sunlight WILL NOT be optimised for diffuse light. If you have a Solar Collector optimised for diffuse light, it will give excellent performance in cloud, over 60C, and it will detune sunshine so no overheating. Surface Power has the only diffused light solar technology that we know of. 
Now add to this fact that historically, its all about solar hot water "collectors". What about the system performance?. If you buy the winning engine in a Formula 1 race, you won't win the next Grand Prix. It's the sum of all parts, and how they scientifically interact with each other and it's even more critical when you only have diffuse light (cloud) as your main energy source. It's also key in cloud that you incorporate "heat retention" technology due to low light levels, existing solar thermal CANNOT do this.
If you install a sunshine based solar system, then you will be unimpressed when compared to a Surface Power's system performance and your savings will be limited in the UK & Ireland where cloud cover is the main feature of our weather systems. The bad summers and excellent performance from Surface Power system's currently showcases that situation.
1) How does Surface Power's patented technology work:
Surface Power has developed a finely tuned solar hot water system science which looks at ALL the elements of the system and how it performs in diffuse light. Our MPPT-t technology is an advanced diffused light Thermodynamic science (inertia retention technology) which we have developed and patented and is only available from us, in fact if truth be told, experts in the industry struggle to understand our science BUT THEY HAVE NO PROBLEM UNDERSTANDING THE OUTSTANDING PERFORMANCE.
THE LEGACY SOLAR STUFF: Legacy Solar Flat Plates & Vacuum collectors use DTC "Differential Temperature Control", a very inefficient ON/OFF cycle. They also talk about "conversion efficiencies". The big problem with this old style format in country's with lots of cloud is that you need so much collector area to get any real benefit, that when the sun comes out you have huge overheating issues. (you may be familiar with the phrase, I get loads of energy when I don't need it and none when I do)
SURFACE POWER's TECHNOLOGY: Surface Power's collectors may look similar to other Vacuum collectors on the outside but that's where the similarity ends. Inside is a brand new system science called MPPT-t (Maximum Power Point Tracking – thermal). Surface Power have developed not just a superb aluminium solar hot water collector with a huge lifespan BUT also a complete system science which is optimised for diffuse light and you can install East, South and West and even North facing. Light is everywhere !!!
2) So how does that system science perform:
The industry is constantly using theoretical performance of solar collectors as evidence of performance, we think the day for theory is long past. This may be in the form of software print-outs or collector test reports; none of which can be used to hold the manufacturer, supplier or installer accountable for performance issues. There is plenty of evidence that this theory is never actually delivered in practice with the 2010/2011 Energy Savings Trust study (in partnership with the UK & Irish Governments) of 88 systems installed in the UK & Ireland , where the best system delivered 98% of total hot water annually and the worst delivering only 9% of annual hot water needs. Surface Power are the only company putting their reputation on the line in regards to performance. We don't do theory and our stated outputs are actual Government certifications and metered outputs NOT software programs. We are the Ferrari of performance and we prove this everyday with our metered systems as a standard option.
In the example below taken from a major study done in the UK & Ireland in 2010/2011 over 12 months. The Surface Power system in this metered customer was the number 1 performing system BUT the number 2 performing system was a leading European system in a customer site in the same region; and we can clearly see the difference in our system science versus the "best of rest". (NOTE: all other systems by default would be expected to perform worse than this NO 2 system below (that's just common sense)). This No 2 system was judged to be in excellent working order in the study)
So there you have it, our secrets out, MPPT-t is a system efficiency science tuned to respond to diffused light and all our patents are based on system performance and optimisation at this range of light level.
There is a good reason why every other solar manufacturer does not "measure" the output of their solar hot water systems, why would they, the news is NOT GOOD. They do not want you to know that you could be getting as little as 100-240 kWhrs/m2/yr of DELIVERED ENERGY….
We think the Industry has an obligation to show output performance as a metered option. The smoke and mirrors would end overnight. Imagine buying a car from a salesman who told you it did 120 mph but they forgot to install a speedometer !! (translation: It won't really do 120 mph but we won't be giving you any way of proving it.)
 3) How does performance impact system design and savings:
Pounds, Shillings and Pence. This is the reason we invest in solar heating or hot water technology.
Question, is the highest kWhr/m2 performance per year the most important factor in choosing solar hot water/heating, Answer, NO. The first criteria to be met is service temperatures. What does this mean?
The service temperature of hot water is 40C, this is your 100% daily temperature requirement. This means the boiler is OFF. Any less than this and your boiler is ON and this is a BIG DEAL on oil/gas costs and efficiency.
Boiler "hot water only" efficiency is terrible. If your house is not zoned, or your boiler is outside, it could be less than 20% efficient. BRE in their latest study (2012) for hot water efficiency of oil combi-boilers stated they underestimated SAP's hot water heating efficiency losses by 75% and now declare the new efficiency to be ONLY 37%. That means only, 37% of the oil used gets turned into hot water. For hot water ONLY for 4 people in a house over 6 months of summer ONLY, that would equate to €600 of oil; and at 20% efficiency, it would equate to €1,100 worth of oil just for heating hot water in the 6 months of the summer at today's prices, Sept 2012.
To understand let's look at 2 examples.
Customer 1 below is a Surface Power customer, he will achieve 40C or higher even on miserable days because we use daylight. A daylight day is much longer than a sunshine day. This boiler and Immersion will be OFF typically for 6 months if not longer. In the study mentioned above, an SP501 PRO produced minimum 100% daily hot water for 10 months of the year and that excluded many days at 39C which we would have considered 100% also. (Well above 70% of annual hot water needs).
Customer 2 below has a regular flat plate or vacuum system, he only gets to 35C AND HERE IS WHERE THE BIG ISSUE IS. Your skin temperature is 37C. This means you will think 35C is cold so you'll turn on your boiler/immersion to raise it higher. BUT your boiler/immersion have a minimum 60C stat as that's the law. So your boiler now completely unnecessarily heats your cylinder to minimum 60C so the efficiency of your boiler heating water is now even worse than before you had solar.
So meeting 100% daily temperature is KEY (40C) regardless of weather.  (top tip, to increase the kWhrs/yr, you lower the temperature of the water so be careful if someone is increasing your kWhrs/yr, they could be simply lowering the temperature outcomes by increasing the cylinder size, bigger solar cylinders mean higher oil/gas bills ) (did you know that Surface Power has been government certified to deliver MORE THAN 70% of annual hot water at minimum 54C and achieved a 5 star Energy Star rating placing our systems into the TOP 25% in the world, we are the only solar thermal company in Asia, Europe or the US to achieve this.)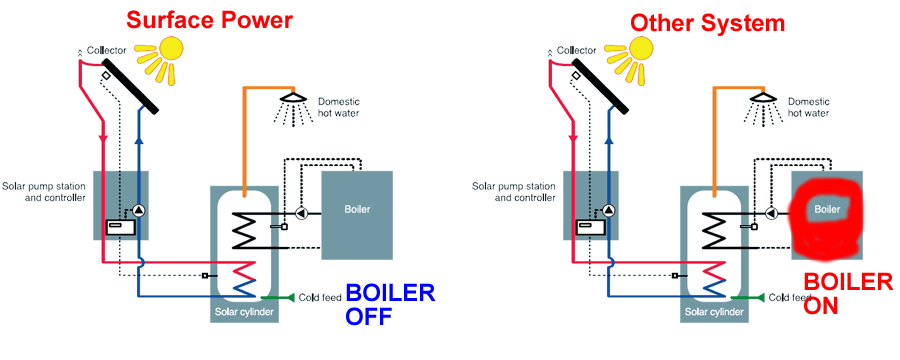 4) So let's do what we love best, lets prove it:
 Below: End of day production: 8th December – WINTER, Cylinder at 56C.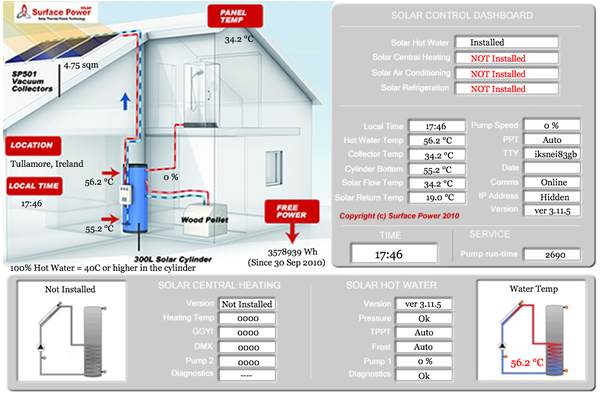 Below: Early Morning 7:07AM : 9th June, Collectors at 43C, in production, DELTA of 12.5C already. 100% of hot water (40C) will be delivered before 9am.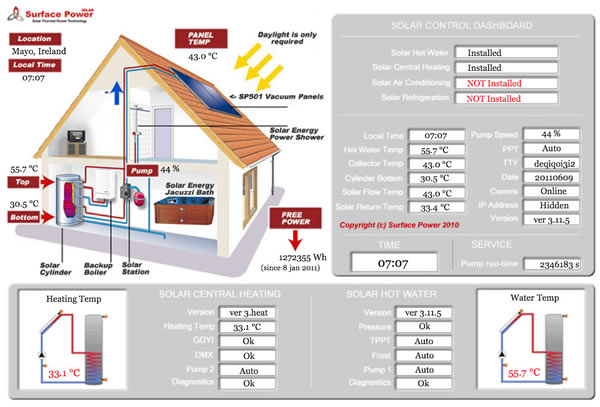 Below: Midday production: 6th September , Cylinder at 84C. NO CENTRAL HEATING AT ALL. EAST FACING SYSTEM.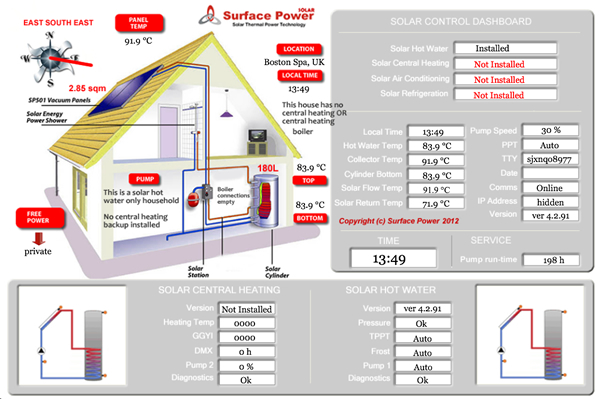 Below: Production: 11th June – 10:10 Morning, Cylinder at 74C, bottom nearly 2.5C higher than top, cylinder not able to stratify as fast as the heat is coming in at 10am in the morning !!..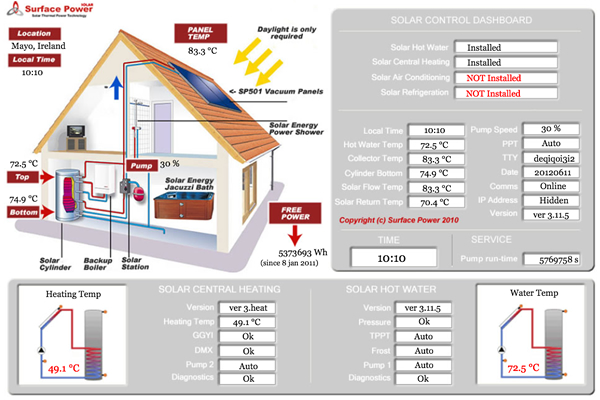 Below: Early morning production: 22th July – North Facing System @: 10:10am, Collectors at near oil/gas boiler temps.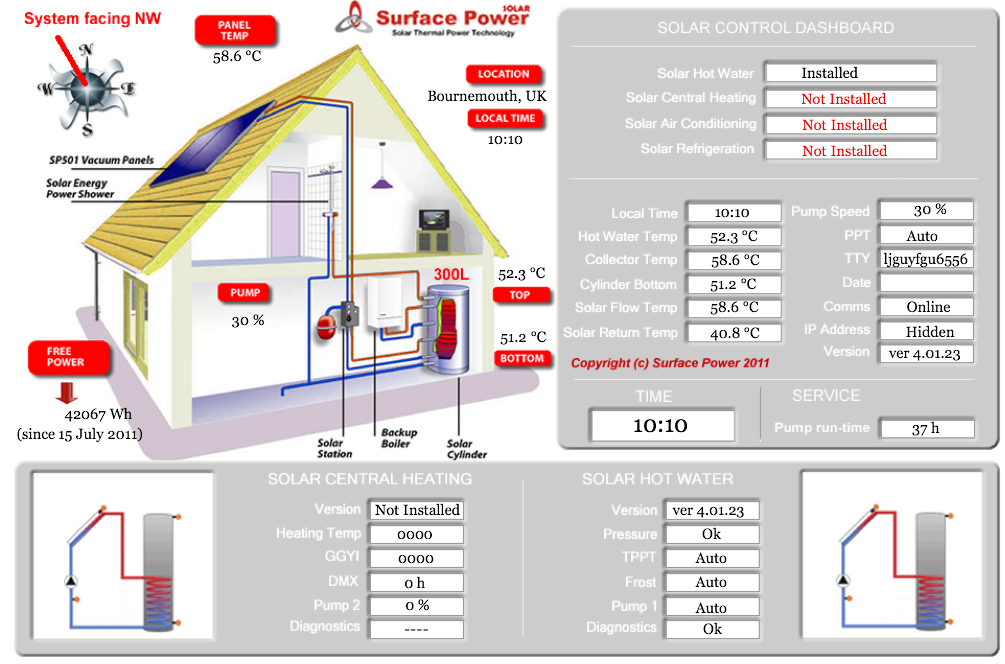 Below: Lunchtime production: 7th September- Solar Hot Water, Central Heating & Pool Installation, system running all services.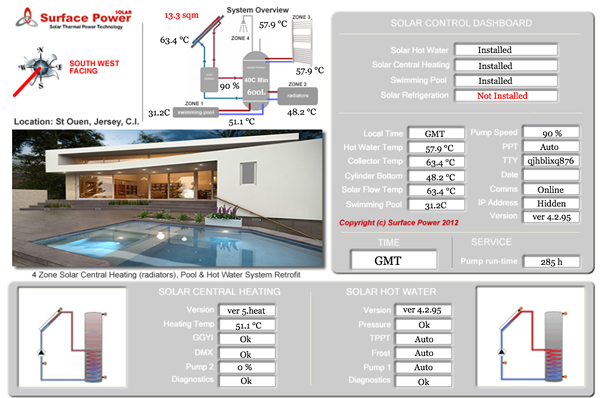 Below: Evening production: 7th September- Solar Hot Water, Central Heating, nearly 5pm, EAST FACING SYSTEM and the collectors are still at oil/gas boiler temperatures.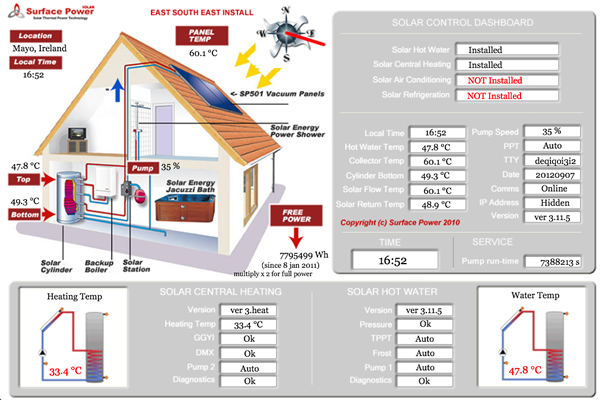 For ongoing LIVE performance, please go to the LIVE section on our website, www.surfacepower.com
 4) So what is the difference in profile's of Surface Power and Ordinary Solar Thermal: (let's look at a WINTER's day in the same area)
The following profile is a 24 hour data profile of a "leading industry vacuum" system on 2nd October, 2010.  Notice how the top and middle of the cylinder get heated by the immersion and the collector only heats the bottom of the cylinder up to 43C. Believe it or not, for this time of year, this is not a bad performance for legacy solar thermal so it tells you the day is OK. 

This profile below is a customer's Surface Power system on the exact same day, 2nd October, and you can see the difference between old style DTC "Differential Temperature Control" above, the ON/OFF legacy method of performance and below you see MPPT-t, the constant performance maintaining a Delta T over the whole day of approx 12C. The Surface Power system below has less sqm of collector per L/water in the cylinder also. This is the difference between "Diffused" technology and ordinary sunshine collectors. It's like having a Ferrari instead of a Fiat.
MPPT-t is a patented science which runs ALL DAY and yields multiple times more energy and higher temperatures than legacy solar.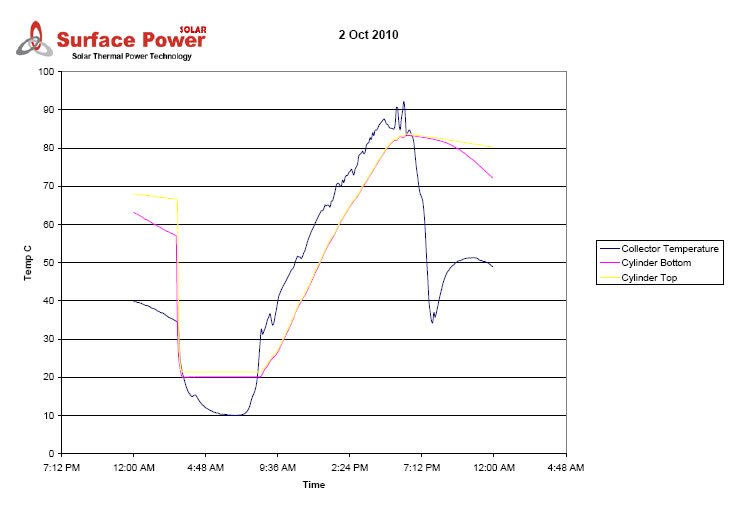 5) So what are the real benefits of a Surface Power diffused (daylight) solar thermal system over conventional systems when the local weather is predominantly cloudy:
The REAL benefits are simple:
You can have smaller systems to do the same task

You can get much more performance per sqm installed

It does not need to face south, (light is everywhere)

You can use it for Central Heating, (radiators OR underfloor)

You can retrofit central heating into any age or type of house

You keep your existing radiators and plumbing

You get much quicker payback

The system performs even when its raining !!

The system runs cooler on hot days, no overheating

No breakdowns, stagnation or service calls

Your boiler is OFF permanently for months

It's has a lower sqm price than other professional systems

Your system can be LIVE online

You get a 20 year performance warranty

You'll collapse your oil or gas bills

You'll smile more often !!
6) The patented technologies we use ? (but won't tell you about as they are secret)
Thermodynamic Oxygen Rebounce are microscopic semiconductor layers, invisible to the human eye which interact with the oxygen in the circuit fluid (the worlds best insulator) to block heat loss. (this is a patented heat retention technology we own)

Harmonic Disturbance Coatings are microscopic semiconductor layers, invisible to the human eye which interact with the harmonics of the system's laminar flow creating extra heat within the system flow lines thus allowing continuous operation of the system at a positive Delta-T. (this is a patented heat amplification technology we own)

Microwave Friction Layering applied as a semiconductor layer, this is a heat creation technology but we will not disclose any details on this.

MPPT-t, "Maximum Power Point Tracking-thermal" is the optimisation of the power band in the laminar flow. It is how the science mantains a constant Delta-T between 10C and 25C.

Laminar Flow Lines, all our systems are designed to run Reynolds numbers less than 2000. Hence, you must use all the system equipment for the science to be fully optimised and this is the reason why we must design all non standard or commercial systems. (which is a free service)
+++++++++++++++++++++++++++++++++++++++++++++++++++